Uncategorized
01/03/2022
It's Pancake Day!!! At Little Messy Learners, Pancake Day is the most exciting and MESSIEST time of year for the Little Messy Learners team. It is the perfect excuse for franchisees and parents alike to get mega messy for the occasion! Whether you're taking part in messy play classes or making a mess in your kitchen with the little ones, these Pancake Day inspired trays/activities are for you!
1.
Of course we couldn't celebrate Pancake Day without making our own in class! Check out this eye catching make your own pancake tray with ALL the toppings 🙂
2.
Simple but effective, this simple flipping activity was a smash hit with the little ones. It's the no heat, child safe gross motor activity you never knew you needed!
3.
Why not let your little ones do the mixing this year, it's another great way to hone in on their general gross motor skills! We absolutely love this two in one messy play tray that presented two variations of sensory play to the little ones; mixing and drawing! Powdered sugar is such a great tool for mark making, can you spot the marks made in this picture??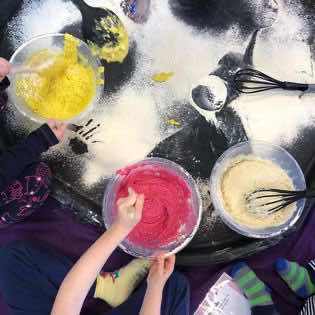 4.
Another great way to celebrate AND educate! Use your pancakes to improve on your little ones fine motor skills. This simple shape making activity is ideal to work on hand-eye coordination and makes for a very delicious snack after 😉
5.
Although this tray isn't edible, it looks like SO MUCH FUN!! We couldn't think of a better way to celebrate than a pancake tray made out of sticky gloop! Perfect for the little ones to get stuck in with!
Not only is Pancake Day the perfect excuse to get messy it's such a wonderful time to be spent with family! Something as simple as cooking together is such an effective bonding activity, allowing your child to work with you in the kitchen shows a great amount of trust that they will appreciate and remember for the rest of their lives! Have fun everyone and GET MESSY!!