Uncategorized
07/02/2022
Valentine's Day is just around the corner and I'm sure many of us are looking for ways to share the love with the little ones that keeps them entertained and doesn't break the bank! Well, this blog was made for you! Read all about some of our FAVOURITE Valentine's Day themed messy play trays that are easy to recreate and look just LOVELY! All trays were created by the wonderful franchisees at Little Learners UK and Little Messy Learners AU!
1.
The PERFECT fine motor activity for those with a sweet tooth! This fabulous sensory tray incorporates the gripping element of fine motor skills, allowing your little ones to grip and place the sweet treats provided! This tray is a treat to the eyes and is made out of entirely edible ingredients. You can use anything you like to recreate this, we used the classic Rainbow Drop sweets to bring a touch of nostalgia!
2.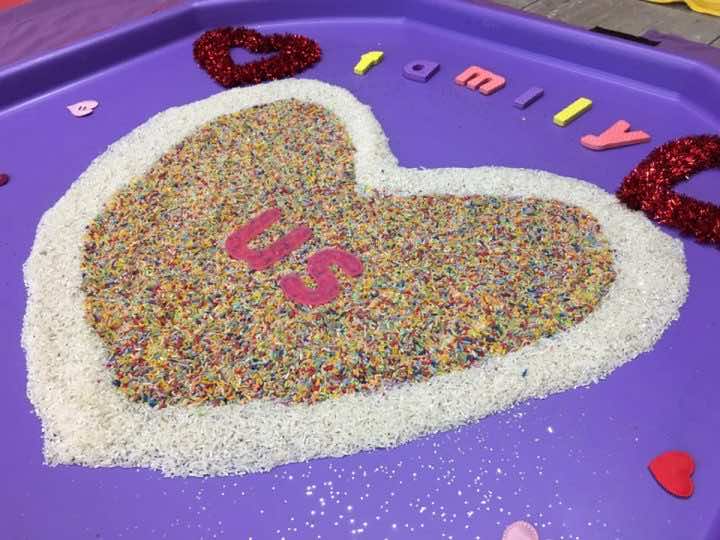 Our hearts are beating fast over this Valentine's tray!! This is primarily made up of coloured rice, we use this ingredient a lot in our messy play trays and I'm sure you can see why. Just look at those beautiful pastel colours together, we're truly swooning! The fine texture of coloured rice is perfect to encourage little ones to make marks with their fingers or to pour into different containers, overall improving their gross motor skills!
3.
This tray is giving us heart eyes!! We love love love this simple but effective heart tray. All it takes to make is some coloured spaghetti (or any kind of pasta you like dyed with food colouring!) and some materials for gripping! You can really make this tray your own, maybe you want to amp up the glitter or add some different coloured hearts to catch the eye. The possibilities are endless with this idea!
4.
We LOVE this unconventional take on the classic red Roses! This is so simple to make and consists of items you probably already own. All you need is some greenery (this tray uses kale but you can use anything from lettuce to dry seaweed!) and, that's right, tomato sauce!! Whilst a very unusual ingredient, the kids go absolutely crazy for it in class and love getting mega messy with it! Who knew such simple ingredients could create something so stunning!
5.
This idea has us hooked! Whilst this isn't a messy play tray it is equally easy to recreate and makes for endless fun. All you will need is some pipe cleaners and a bowl/bucket of water to make this simple but stunning craft! Making varied heart sizes with your pipe cleaners is a great way to hone in on your little ones fine motor skills and makes the game even more entertaining! Whether you make your own rules or leave it as is, this idea is so much fun for the whole family!