Uncategorized
09/11/2021
Although the beach is as close as can be we at Little Messy Learners thought; 'why not bring the beach to you?' Here is a super fun and super aesthetic beach themed messy play tray! Also, for those of you who are worried about your curious little ones putting things in their mouth, this activity is totally child safe and 100% edible! What could be better?
All you will need is the following;
Multiple packs of crumbly biscuits (for this tray, we used digestives!)
Powder sachets of custard
A large bowl
A jug to hold hot water
A mashing utensil
Blue food colouring!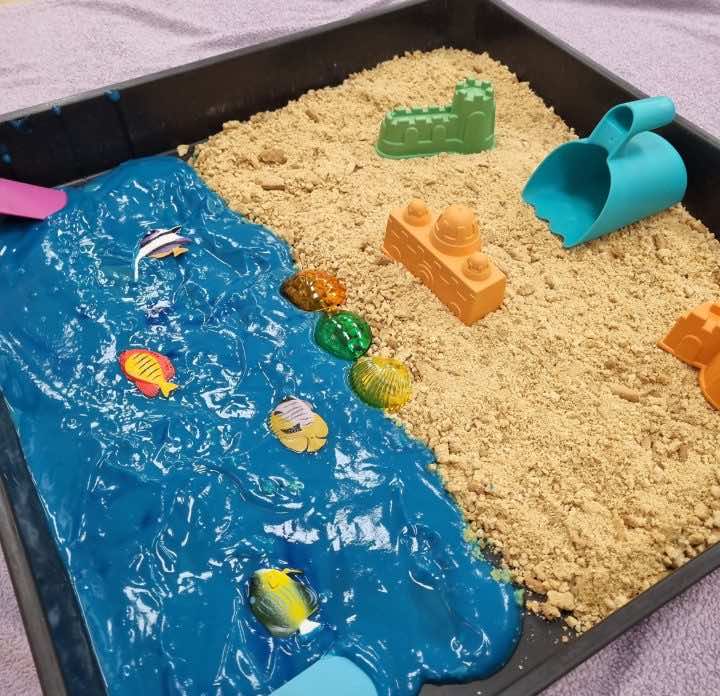 Here's how to make it!
Using your biscuits, crush the contents until they form a fine powder sort of texture. This will mimic the warm sand of the beach!
This step is adults only, following the instructions on your custard packets prepare the contents in a bowl until the custard and water mixture has cooled!
Add a couple drops of blue food colouring into the mixture to make your very own shiny and satisfying sea water!
Arrange your sand mixture and gloopy sea water on your sensory tray to create your very own beach scene!
Add any decorations you wish to make your scene come alive such s toy fish, boats or even make it an adventure and collect your own rocks! Why not find a bucket and spade to let your little ones explore their very own beach!
There you have it! Your very own private beach! This beach themed messy play tray is the perfect child safe activity to improve your little ones fine motor skills whether it be scooping sand, making sandcastles or tracing shapes in the water! We make so many amazing messy play trays such as this one, why not book a class with us and see for yourself?
Thanks for reading!